ok, so this is my very first WIP Wednesday post where I actually follow the format...
Dream On!!....
it makes my heart sing with JOY!
see that little monster? have i ever shared with you how i do NOT love spiders... i don't! not one bit! he is lucky he is alive. he made his way off and everyone lived to tell about it, promise.
ONGOING PROJECTS, yet to begin:
July Wonky Bee Blocks for Jessica
totally going to do
this
...
swoon for Miss S.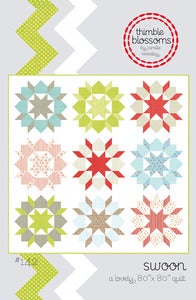 backpack for Miss S.
(planning on starting and finishing this backpack this morning).
FARMERS WIFE QAL:
i have had the book for a few (like 5) weeks. i have decided on my color palette. white and blue. i am a two tone kind of farmers wife.
COMPLETED TOPS AWAITING QUILTING:
Kaleidoscope.
i've got to piece the back and baste and then start my first ever hand quilted adventure. i am excited! not nervous at all thanks to the
awesome
tutorials all over the place.
So there you have it.
i do have one finish this week. i made my very first pillow cover for my sister in law dani california.
just no picture.
i will take pictures of the backpack and the pillow cover this afternoon when i finish the backpack!