when i started blogging it honestly was just for me. i wanted a place to document what i created.
then i started meeting people, real people who share my love of creating.
in this whole process i met
bonnie
.
she has the cutest blog, she is soo talented,
she is sooo beautiful, inside and out.
and she shares my love of true blood
oh and hunger games...
but honestly; she is just a great person, a wonderful friend, and i love her dearly.
so, she decided a while ago to organize a swap. i was so excited when i realized that she had assigned us to be partners. so excited and also a little relieved...deadlines are hard for me.
we had three extensions... we both needed those extensions...
last week i was over the moon when i got my package in the mail!
over the moon!
have i ever told you all how i love natural linen and ruffles and hope valley and heirloom fabric?
well, bonnie knows, of course she knows, we are besties.
she hit the ball out of the park! oh how i love it...
the fabric, the pouches, the Denyse Schmidt Hope Valley Stationary! oh Lordy!
seriously, can this pouch get any cuter, any more perfect for me?
those ruffles... they kill me. seriously, i love them!
and do you see that pink fabric on the inside?
it makes me happy happy happy every single time i look at it.
it makes me think of bonnie, my sweet friend.
thanks friend. i just love ya!
and if you wanted to know what i made for her and her cutie pie little boy...
click on this picture for the deets...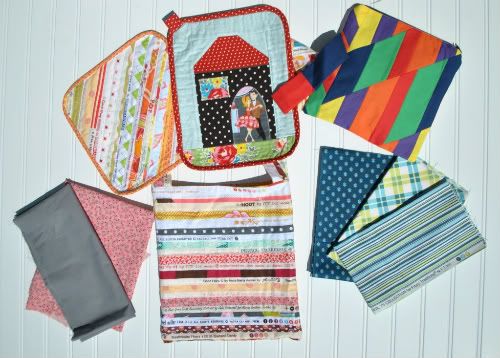 xx nicke